Knee arthrosis is causing you pain?
Are you suffering from knee arthrosis? You can count on CEO Medic, the most complete orthotics and prosthetics center on the North Shore, in Montreal, and on the South Shore. More than having a great team of certified orthotists, we also offer a clinic for the knee problems. We have everything to treat, care, and relieve your pain.
What is knee arthrosis?
Knee arthrosis affects around 10 % of Canadians. In the case of arthrosis, the knee is the most affected articulation, in 80 % of the cases.
The average age at diagnosis is 50.4 years old. When your knees are in good health, they show a joint space between the femur and the tibia which is filled by meniscus. But when the alignment of the knee is not optimal, the meniscus wears, causing friction of bone on the other. This knee arthrosis is called osteoarthritis or gonarthrosis.
About alignment
The alignment is also an important factor. If the knee is not in its optimal axis, the pressure between the tibia and the femur increases, which accelerates wear of the meniscus. So, a knee inward – knee valgus – generally results in wear of the outside of the knee joint, while a knee outwards – varus – frequently leads to pronounced wear on the inner part of the knee.
Act quickly
This degenerative articular disease can cause pain and be debilitating in the day-to-day life. However, if it can't be cured, knee arthrosis can be treated. An early diagnosis and a treatment plan are suggested to stabilise the progression and delay or prevent the aggravation of joint lesions.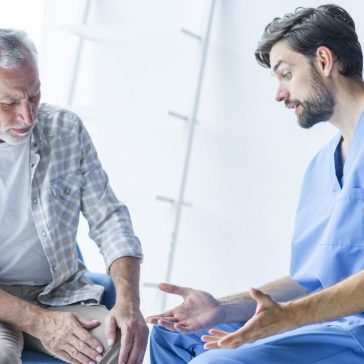 We have what you need
At CEO Medic, a multidisciplinary team offers you a large range of treatments, service, and devices to help you preserve your quality of life and your mobility.
In addition to our clinic for the knee, our professionals give you access to: orthopedic consultation, rehabilitation program, orthopedic devices like the knee brace OA from iBrace.
iBrace knee brace
The OA from iBrace is a rigid knee brace to relieve the pressure between the tibia and the femur. Custom designed from a 3D scan of the leg, it offers fast relief to arthrosis symptoms.
Do you have these symptoms?
You experience weakness when you get up from a sitting position? You feel pain when you walk up or down the stairs? Or, do you feel knee stiffness when you bend or stretch your leg? If so, it's possible that you have knee arthrosis.
If you have any doubts, contact us for an appointment in one of our five locations on the North Shore, in Montreal and on the South Shore.