Finally, you have received your knee brace which will allow you to regain greater mobility in your daily activities and/or reduce your pain related to osteoarthritis or osteoarthritis.
Before getting started, it is important to properly install and maintain your brace in order to get the most out of its benefits and to keep it for a longer period of time. Here is a checklist prepared by our orthotists to help you learn everything you need to know about fitting and maintaining your orthosis.
Please note that the following information concerns only iBrace orthotics. If you have any questions, please contact your orthotist.
How to install your brace
1- Take off your pants completely and sit on the end of a chair. Position your knee at 90 degrees, then slide your foot forward 15 cm.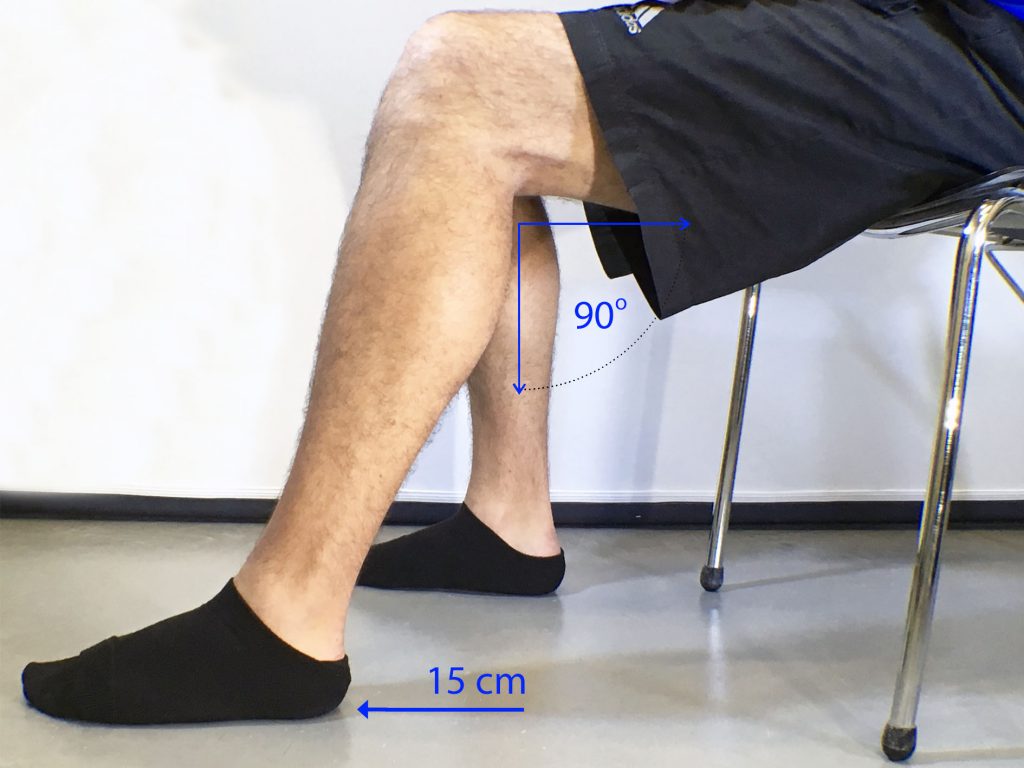 2- Untie all the straps on the outside (rubber part) and take the straps out of the plastic buckles on the inside. Close the straps.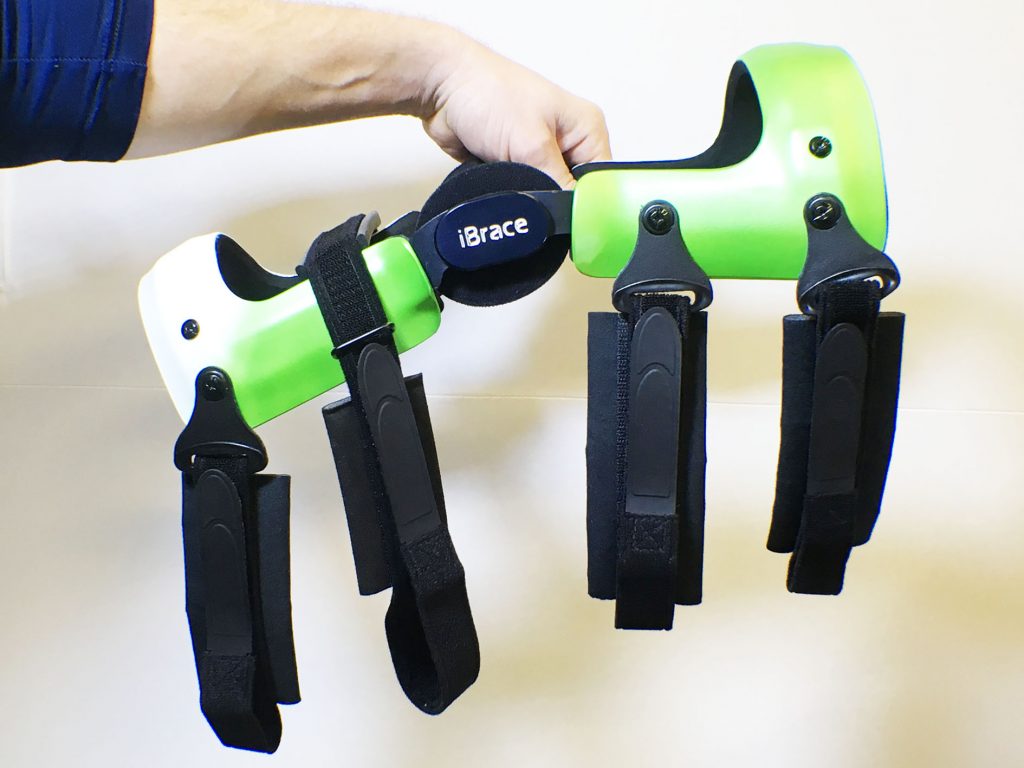 3- Place your brace on your knee so that the centers of the joints are slightly above the center of your patella.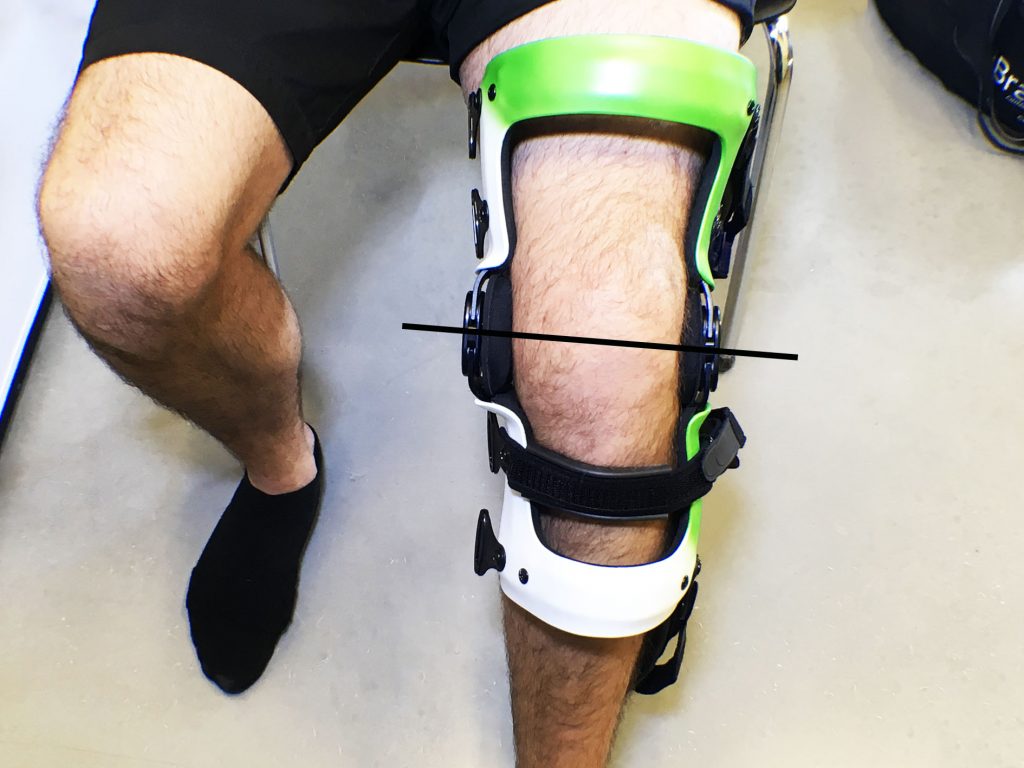 4- Firmly press the sections of the brace on your thigh and shin. Make sure that they are without gaps and well supported on your leg.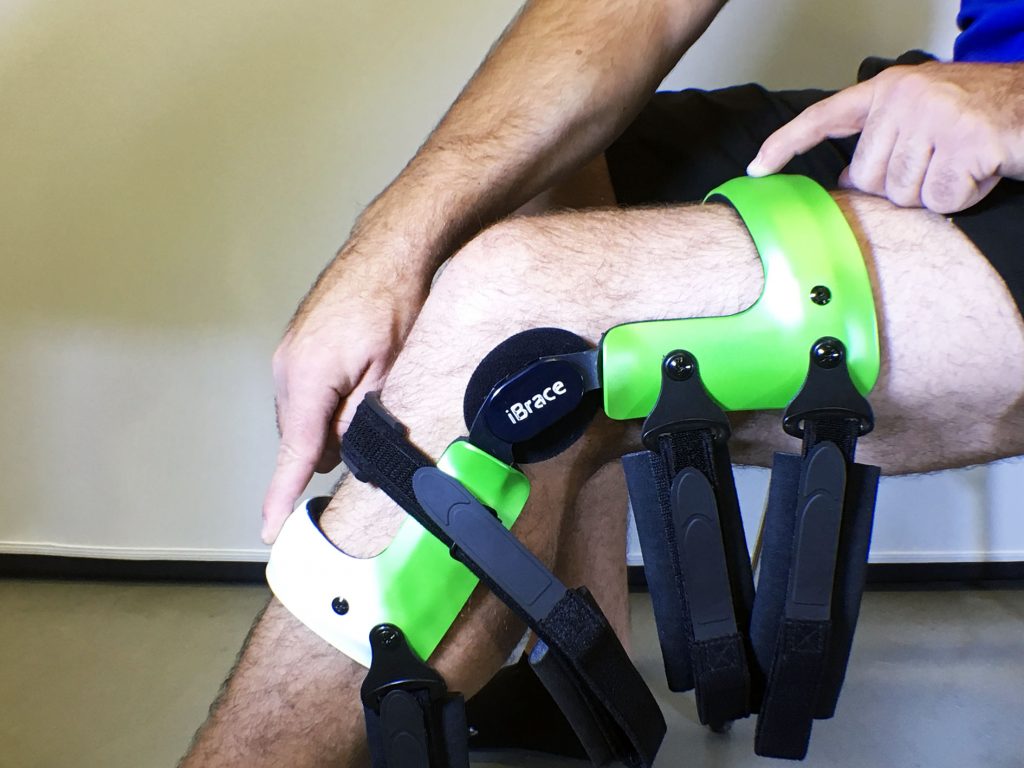 5- Attach strap 1 and tighten it comfortably. The tension should be sufficient without being uncomfortable. Do not over tighten the straps.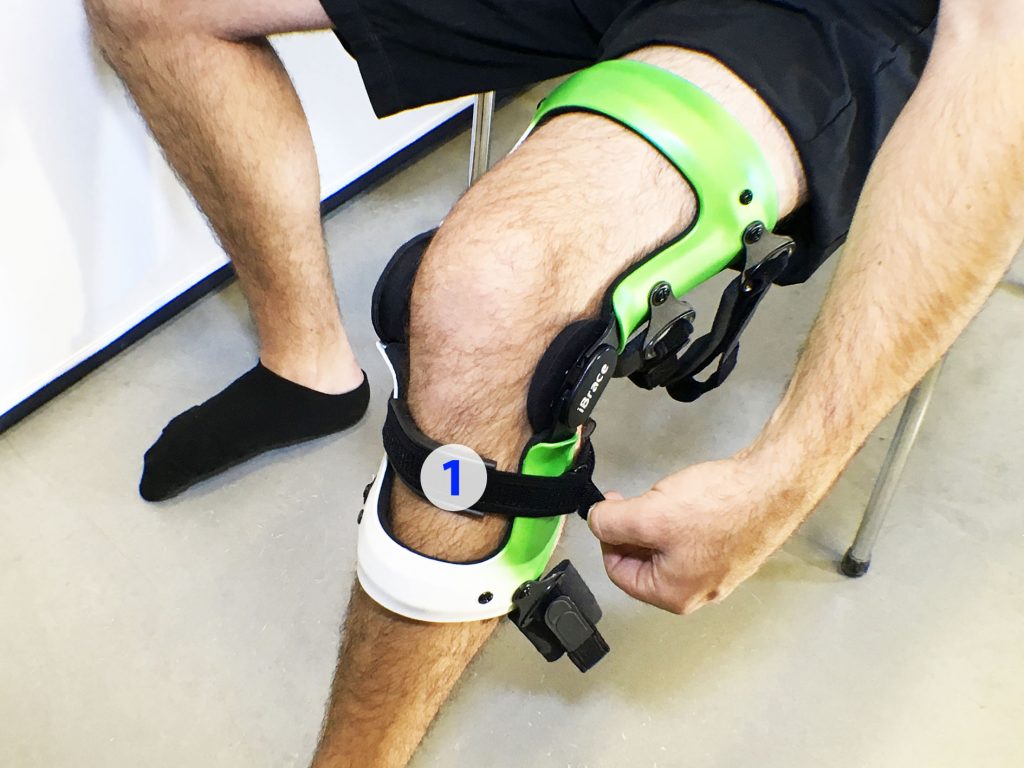 6- Attach straps 2, 3 and 4 in the order indicated. Finally, tighten strap 1 one last time to limit the sliding of the brace.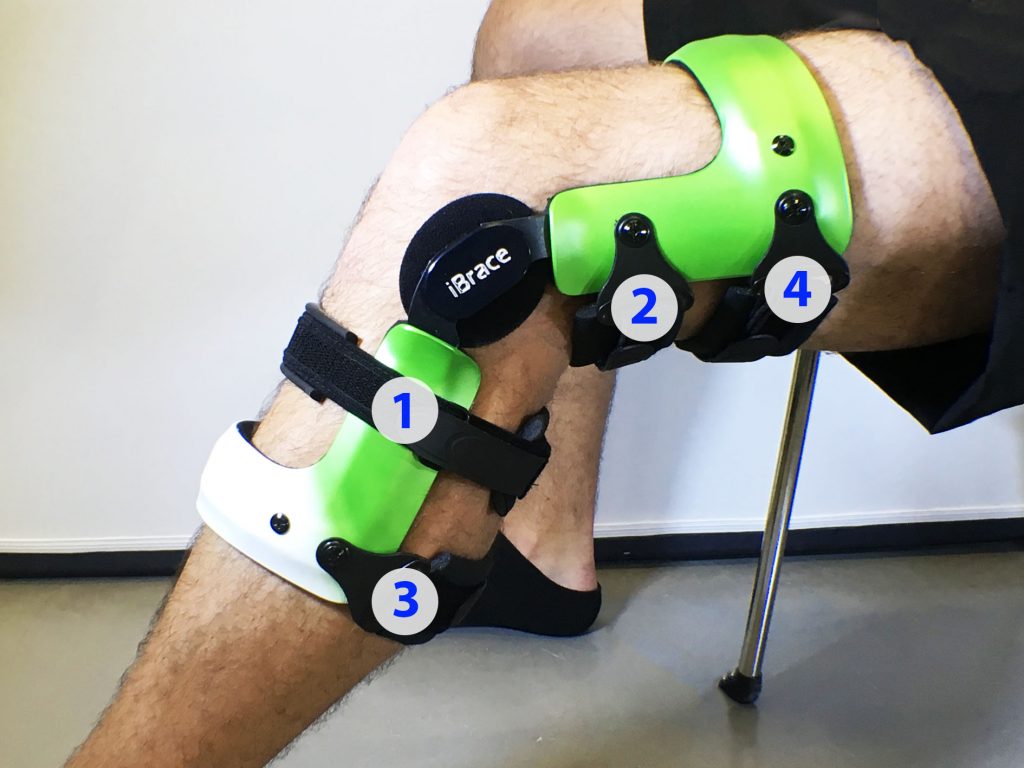 TIP: On each strap of your brace, there is a small comfort cushion that can be moved on the strap by removing it and resting it at the desired location. You can place it so that it is in the center of your leg for maximum comfort.
How to care for your brace
To prolong the life of your brace and for better hygiene, regular care is of great importance.
Use a mild antibacterial soap and a damp cloth to clean your brace.
Gently clean the straps and strap cushions, the inner lining of the thigh and the shin, daily.
Never use the dryer or hair dryer. Please blot up the excess water and let it air dry.
Check regularly that no foreign objects have entered the joint. Never disassemble the joint by yourself.
How to use your orthosis
Wear your brace directly on the skin and add a thin fabric knee brace underneath, if necessary.
Do not wear directly over a wound or surface with skin damage.
Do not submerge your brace in water to prevent damage to the mechanism.
Do not share your brace with another person. It has been custom-made to fit your leg.
Follow the strap installation sequence as indicated above or as presented by your orthotist.
Adjustments should always be made by your orthotist, do not hesitate to contact him/her if necessary.
If wearing the brace causes any type of discomfort or discomfort, stop using it immediately and contact your orthotist.
In conclusion, it is recommended that you wear your orthosis gradually and resume your activities gradually. Even if you notice a significant improvement in your condition, be aware that the treatment prescribed by your doctor must be continued in order to guarantee long-term results.
Now that you know everything about the maintenance and installation of your orthosis, you are ready to get started and regain your mobility!
Related article: Ouch! I have knee pain
Annual follow-up with your orthotist: very important!
An annual check-up of your orthosis is strongly recommended. The orthotist will check the wear and tear of the materials of your orthosis, the changes in the measurements of your leg, the changes in the biomechanical movements of your body, the pathological modifications (osteoarthritis, ligaments, etc.) and the evolution of the treatment plan prescribed by your doctor.
Make an appointment